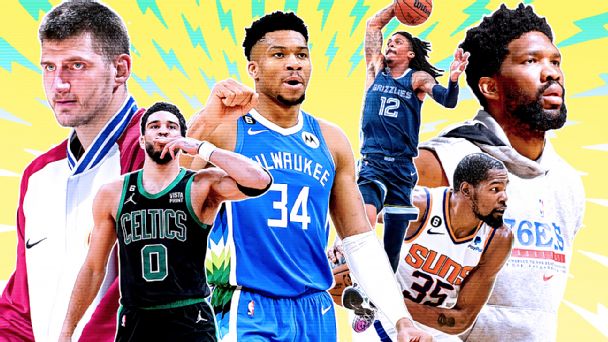 How can the Golden State Warriors and Sacramento Kings win the only first-round series to go seven games?
The series has already featured a variety of twists and turns. It opened with the Kings taking their first two playoff games since 2006 before the Warriors survived Game 3 without the suspended Draymond Green and kicked off a three-game winning streak. Then, with Golden State on the brink of advancing, Sacramento rallied to win Friday night at the Chase Center and force Sunday's Game 7.
Based on the outlook from oddsmakers, expect a back-and-forth game like the series itself. The Warriors opened as a rare road favorite in a Game 7 before the odds swung back to the host Kings, who are favored by one point at Caesars Sportsbook as of Saturday night.
So much is at stake for defending champion Golden State — it faces another historic luxury tax bill in 2023-24 if the Warriors keep their core intact.
Let's look at what the Warriors and Kings can do to win Game 7 based on the trends from the first six games of this thrilling matchup.
---
Warriors: Start Draymond Green
Bringing Green off the bench was a good story when Golden State went on to win its next two games with him in a reserve role and Jordan Poole starting, but those wins came despite that lineup change than because of it.
Remember, much of the optimism about the Warriors' playoff chances was based on how strong their starting lineup had been during the regular season: plus-21.9 in 337 minutes, easily the best net rating of any five-player group with at least 250 minutes, according to NBA Advanced Stats.
It's surprising, then, that Steve Kerr made the decision to move away from that lineup so quickly based on Golden State's Game 3 win without the suspended Green, which was the product of atypically poor Sacramento shooting (11-of-47 on 3s) rather than better shots via improved floor spacing.
It's not as if Golden State has struggled when Green plays with fellow non-shooter Kevon Looney. Although the sample sizes are small enough to be meaningless, the Warriors' original starting five still has the best net rating of any of their lineups that have played at least five minutes in this series. And while Green is still seeing plenty of playing time off the bench, going back to him as a starter might allow Kerr to cut the minutes of the struggling Poole, who has combined for 17 points on 6-of-23 shooting the past two games while playing through an ankle sprain that had him on the Game 4 injury report.
---
Kings: Get Domantas Sabonis going
This has been a tough matchup for Sabonis, the engine of the Sacramento offense. After averaging 19.5 points on 61% shooting in the regular season, Sabonis is down to 15.5 PPG and 47% shooting in this series. Remarkably, Sabonis never shot worse than 53% in any six-game stretch during the regular season.
Much of the credit goes to Green and Looney, a pair of strong post defenders who have made life difficult for Sabonis in the paint — and sometimes outside the paint. (Looney also elbowed Sabonis in the face on a jump ball in Game 6, which officials missed.)
The Kings were able to win Game 6 despite Sabonis scoring a season-low seven points on 3-of-12 shooting in 23 minutes due to foul trouble. That result was emblematic of a series where Sacramento, which posted the highest offensive rating in NBA history during the regular season (118.6 points per 100 possessions) has been held to 110.5 per 100 but is outscoring Golden State anyway. If the Warriors' offense gets going, the Kings will likely need more from Sabonis to keep up.
One possible way to generate better looks for Sabonis: more actions with him screening for Malik Monk. During this series, Monk has done a better job of finding Sabonis as the roll man than De'Aaron Fox has. Monk has assisted Sabonis 2.4 times per 36 minutes to Fox's 1.9 per 36, according to NBA Advanced Stats.
---
Warriors: Make shots
It's worth noting that Golden State's 33% 3-point shooting would be the second-lowest in a playoff series in the Stephen Curry era, ahead only of the 32% the Warriors shot in a five-game series against the New Orleans Pelicans in the 2018 conference semifinals.
During the regular season, when their 38.5% accuracy beyond the arc ranked percentage points behind the Philadelphia 76ers for second in the league, Golden State made at least a third of 3-point attempts 67 times in 82 games. That's happened just once in this series, when the Warriors hit 41% in a Game 4 win.
It hasn't just been 3s lately, either. Although ESPN NBA broadcaster Jeff Van Gundy was stunned Friday to hear how many times both Curry and Poole had missed a free throw in the same game this season (12, including Game 5 of this series), their five combined misses at the charity stripe in Game 6 were two more than they'd had in any other game.
In total, Golden State's 10 missed free throws in Game 6 tied a season high. That came after the Warriors shot 63% in Game 5, tied for their fifth-worst performance in any game this season.
Even Golden State's finishing was a problem on Friday, when the team shot 37% in the restricted area, according to Second Spectrum tracking, which was easily the Warriors' lowest mark in a game all season. That's incredible given Sacramento sacrificed rim protection for spacing when it replaced backup center Alex Len in the rotation with 6-foot-9 forward Trey Lyles.
With Curry, there is some question whether long minutes in this series have taken a toll. Because the Warriors have been so ineffective with Curry on the bench, he has already played 40-plus minutes three times in six games — more than in their entire championship run last year (twice, once against the Memphis Grizzlies and the other against the Boston Celtics in the Finals).
---
Kings: Maintain composure
One of the biggest storylines entering this series was the massive experience imbalance between Golden State, which has been to six Finals in the past eight years, and a Sacramento team that had spent 16 years in the lottery.
Combined, Warriors players (including the injured Andre Iguodala) had more than 20,000 more minutes of playoff experience than the Kings. Curry, Green, Iguodala and Klay Thompson alone had played more playoff minutes than all of Sacramento's players together.
Despite that gap, at times it's been the Kings who look like the more composed team. They handled their first elimination game like veterans, and it was Golden State that looked shaky down the stretch of Game 4 at home, making a series of costly mistakes that gave Sacramento an opportunity to win with a Harrison Barnes 3-pointer at the buzzer, which he missed.
A Game 7 will also be a new experience for most Kings players. Besides Barnes, who played in three with the Warriors, just two other members of the Sacramento rotation have Game 7 experience: Sabonis and Kevin Huerter have played one apiece.
Whether the Kings can handle Game 7 as well as they have other games in this series will go a long way toward determining whether they can advance to the second round for the first time since 2004.