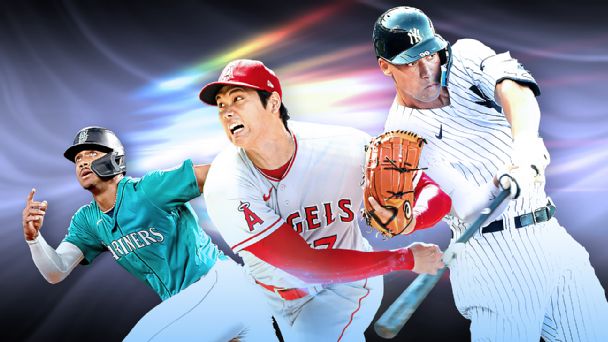 ARLINGTON, Texas — Kyle Schwarber was signed by the Philadelphia Phillies before last season to hit for power, and in this, he excelled, mashing 52 homers in the regular season and postseason combined. That's more than anyone in baseball last season not named Aaron Judge. And Schwarber's home runs — parabolic, titanic, majestic as they often are — tended to have the effect of posterizing slam dunks in their impact on crowds, opponents and teammates.
In the StatCast era, in which everything is measured, Schwarber is an all-time leader in immeasurables, and a lot of that comes from his monster-hack exclamation points. But there is more in Schwarber that is untethered from data and yet tied directly to what the Phillies accomplished last season. His peers will tell you, in so many words, that he is three standard deviations from the norm in how he fosters connectivity among his peers.
"He is the best clubhouse guy I've run into in my entire career," said the 56-year-old Kevin Long, the longtime hitting coach for the New York Yankees, New York Mets, Washington Nationals and now the Phillies. "And not only with the players, but with the coaching staff, the training staff. Literally everybody you could bring together, he's going to bring them together.
"His sole purposes are to be a good teammate, and to win. That's all he wants to do. When you watch him go about it, it's real; it's genuine. Day in and day out, you see him bring the team together."
Said Phillies center fielder Brandon Marsh: "He's as good as it gets in the locker room, making sure all of his guys are ready to go — not only on the field, but mentally, spiritually, physically, are ready to play, as one unit."
Schwarber's effectiveness as a messenger is in many ways due to his wide range of experiences. He was a first-round draft pick and part of one of the most celebrated teams of all time, the 2016 Cubs, and he famously launched a home run on top of a Wrigley Field scoreboard in the 2015 playoffs.
But he also lost almost an entire season to a devastating knee injury, and he has waded through deep slumps saturated with strikeouts. In his toughest days with the Cubs, his expression between pitches sometimes seemed filled with mounting confusion and despair. He knows the snug heaviness of a championship ring, and he also knows how it feels to be demoted to the minors, to be leadened by a .188 batting average — his statline in 2020 — and to lead the league in strikeouts, as he did last season.
"His experiences mean he can relate to almost every guy who puts on a uniform, and that's part of what makes him special," Long said.
During a spring training game in Fort Myers, Schwarber wore a mic for ESPN's broadcast and related a story from his days with the Cubs. Ken Ravizza, the team's mental skills coach until his death in 2018, asked Schwarber to swing a bat. Schwarber did so. Then Ravizza — grayed, and perpetually genial in his late 60s — jumped onto Schwarber's back and again asked him to take a swing, and of course Schwarber struggled to do so. This is how your performance on the field is affected, Ravizza counseled Schwarber, when you're carrying around the accumulated weight of these negative feelings.
Schwarber is 30 years old now and the thought balloons that once seemed to loom over his at-bats are gone. Marsh and others talk about how consistent Schwarber is in his demeanor, even in his worst moments of performance. He will come back to the dugout after an ugly strikeout and make fun of himself — "Damn, I was all over that slider, right?" he might say, prompting some chuckles — and then he moves on. A misplay in the field, and he moves on. The most Schwarber moment might've happened in his days in Boston, when he was struggling to play first base and kept making awkward mistakes, and when he finally made a simple play, backhanding a grounder and flipping the ball to the pitcher covering first base, he raised both arms in mock celebration. What followed were loud Fenway Park cheers of appreciation for the laboring, wholly accountable player.
That spring training game was against the Red Sox, a team with which he finished the 2021 season after being traded by Washington, and when Schwarber walked onto the field in Fort Myers, Florida, he was quickly surrounded and warmly greeted by old friends. Some Boston players say they believe Schwarber's departure as a free agent was the first falling domino of their 2022 collapse, because of how important his presence was in their clubhouse — his humor, his self-deprecation, his ability to cut through the day-to-day complications and make everything fun and simple. In one of his first hitters meetings with the Red Sox, the conversation in the room was about the opposing starter, and the detail was thick.
Schwarber, the newcomer, was appropriately quiet until somebody asked him for his thoughts on strategy. As one person in the conversation recalls, Schwarber said, with a perfect dose of humility: "Well … I just look for a ball down the middle and try to hit the s— out of it." There was an eruption of laughter, which might have been what Schwarber wanted.
Bryce Harper said Schwarber's reputation around the league has long been that "he's a great teammate, a great person. This is someone you want in your clubhouse."
"He's the type of guy who fits into every group," said Rhys Hoskins.
Marsh joined the Phillies last summer at the trade deadline last summer to shore up their center field defense, and when he arrived, Schwarber and Nick Castellanos greeted him in the clubhouse — even before Marsh had removed his backpack, he remembers. "It was very comforting, just walking into a place where you don't know many people, and having two of the veteran guys calm me down a little bit and say, 'Just play the best center field you can play.'"
Staffers tell stories of Schwarber asking for suggestions about how to engage teammates who are more reserved, how to help intense peers relax, how to make others most comfortable. What stood out to some rival evaluators during the Phillies' surprising run through the playoffs and World Series last year was how much fun they were having, and Philadelphia players and coaches testify that Schwarber's season-long efforts to coagulate — a skill that has apparently been refined during his career — had a lot to do with that.
Schwarber winced Saturday when the topic of his traits as a teammate was raised, and in deflection, he talked about the great clubhouse influences he has had, from his days with the Chicago Cubs to those now with the Phillies, playing alongside everyone from David Ross to Hoskins, Harper and J.T. Realmuto. He did concede this: you want to be thought of by others in a group as a positive.
"He has a way of poking at you without nailing you," Hoskins said, and also pointed to Schwarber's ability to connect those with disparate backgrounds or experiences. "He has this really unique and easy way of making everybody in the clubhouse feel like they're a part of the group, which is a hard thing to do. He makes everybody feel like they're a part of what we have going on. … A gift."
The turning point in the 2022 season, Hoskins says, occurred in the hours after Harper was hit by a Blake Snell pitch on June 2 and suffered a broken thumb. The Phillies were far behind the Mets, clinging to competitive relevance, and Schwarber spoke to his teammates before the Phillies' first workout that followed the loss of Harper.
"That was kind of a 'put up or shut up' moment for us as a team," Hoskins said. "You lose a guy like that and it's easy to deflate. … [Schwarber said] 'You can't replace this guy. There's only three or four like him in the league. We just gotta focus on what we can do and be ourselves. Without Bryce, we are still a pretty talented team.'
"That message and his ability to pull guys together kind of set us on a path of not trying to do too much. In baseball, that can be contagious; that's when you get on a roll."
Schwarber was in the middle of the pingpong competition that developed in the Phillies' clubhouse last season, particularly with rookie infielder Bryson Stott. It was Schwarber who stoked the Phillies hitters' midafternoon work with a curveball machine, Long recalled — a daily session that developed into an improvised game, with the players scoring according to projected run production. Preparation cloaked in fun and comradery. Schwarber also organized some karaoke.
Marsh can recall standing with Schwarber near the on-deck circle, waiting for a reliever to warm up, and Schwarber simplifying the task ahead. "Get on first base," Schwarber told him, "because I want two RBIs."
Schwarber would ask other young hitters, like Stott, about their plan against specific pitchers, advise them about what the pitcher would try to do — and then outline a response, framed collaboratively: "Here's what I need you to do …"
Schwarber will arrive at the indoor cages before a night game at about 1 p.m., prepared to attend to whatever tinkering he needs to do on his own swing. But Schwarber will also ask: "What are we looking at today? You need me to help with anybody today?"
Early in the 2022 season, Schwarber mentioned to Long that there was more work to pull together the Phillies clubhouse than he had anticipated. Near the end of the regular season, it felt different, in its cohesion. Harper, the biggest star on the team, fully embraced Schwarber and all that he was doing, and Long — who had been Harper's hitting coach for years — felt that alliance was powerful.
"It was all coming together," Long said, "and [Schwarber] could see it."
Maybe Schwarber said it on the mic on the team bus, where he was known for his rousing postgame speeches ("Don't ask about that," Schwarber said, "that's not good content") or maybe during the games with the curveball machine, or maybe in the dugout. Maybe he said it more than once. But as the Phillies began to gain momentum, clinching a playoff berth and beating the St. Louis Cardinals in the first round, a teammate recalled Schwarber saying to others, "Boys, we're one of the best teams out here and nobody knows it." Harper offered similar sentiments: "We're the best team and we're going to win this thing."
These words resounded deep into the World Series, partly because they were true. And partly because of Schwarber's season-long devotion to evolve the teamwide culture.